Laundry Products From Conklin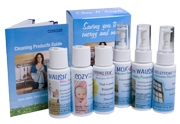 I had a skin disorder in my scalp. I had tried different things. I used SPRING DEW and it cleared up in a week. It did not come back!
A few things on the laundry detergents and cleaners; Use WAUSH and COZY and notice the difference in softness of clothes, especially towels. Also, notice how long your socks last. They will not get holes in them as quickly. Use one oz. WAUSH per load and 1-2 oz. COZY per load for great results. I use 2 oz. COZY because I like a more fresh smell in my clothes. You will like the softness and the money you will save. Use PRE-WAUSH to get out most all stains. Use 2 oz. MOX instead of bleach in a load of whites. Enjoy the white whites without the harsh smell of bleach. Extra soiled socks and such can be soaked in 2 oz. MOX and 2 oz. SANOX overnight in a 2 gallon bucket of water. If you have a grease stain or similar, try CITRUS CARE HANDCLEANER and MOX to get out every trace. To have the best success with every stain, remove it as soon as possible. To get all of the above and other cleaners, order the CLEANERS SAMPLE PACK #9340 and get enough cleaners and laundry soap for at least a half a year for most families. The CLEANERS SAMPLE PACK contain 14 full size cleaners plus pumps and spray bottles. It has every cleaner in it to clean your house from top to bottom!
Mary Ann Lengacher
Conklin Cleaners Sample Pack
Trish Moody, Filer, ID Soon after we first bought our Cleaner Sample Pack, I had a coffee stain on our white tablecloth that had gone through the washer and dryer. I didn't know what to do, so I looked through my cupboard and saw the quart of Mox I had never used. I decided to try it. I poured it full strength on the stain, and threw it in the washer. It sat there for a couple days and then I washed it. The stain was completely gone! I was very impressed!
Claris Gingerich on Home Cleaning Products